Introducing the 2023 House Shield Competition
We are thrilled to announce the House Shield is back again, designed to ignite a sense of participation and healthy competition among our students.
This House program allows students to showcase their talents, develop leadership skills, and develop strong bonds across different year levels. Over the course of the year, students will have the chance to participate in various activities, from sports to academics and creative showcases.
Points have been given for the Swimming and Athletics Carnivals, including the House Spirit award and age-group champions, and for student leadership representatives. More points will be given throughout the year for academic performance and growth, for House-based activities and for co-curricular activities too.
Congratulations to all students who have been working towards earning points for their House.
LEADERBOARD

Exploring Co-Curricular Activities

The amazing co-curricular program fosters personal growth, builds character, and provides opportunities for self-expression. We encourage all students to try or join an activity to explore their passions, enhance their skills, and broaden their experiences.
Our dedicated staff support students to develop their potential, and work alongside them to learn and create lasting memories, whilst having fun. More activities could pop up throughout the year, so keep checking SEQTA Notices.
We are excited to see the amazing accomplishments of our students as they shine brightly both inside and outside the classroom!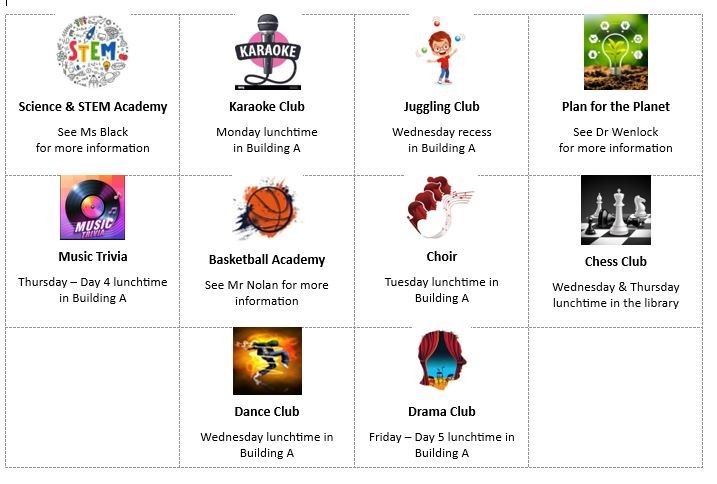 Cold & flu season

A reminder to keep safe during this cold, flu, and COVID-19 season, by covering coughs and sneezes with a tissue or your elbow and washing hands often with soap and water for 20 seconds. Hard surfaces at the College are being regularly cleaned.
Students are encouraged to carry a face mask with them. The College is ensuring enclosed spaces are well ventilated and have operable air purifiers, but students may wish to wear a mask as well.
If your child is unwell, please keep them at home and if required, contact a doctor or health centre for guidance. The Department of Health recommends students use Rapid Antigen Test (RAT), if symptomatic.
Parents are asked to contact the school to notify of your child's absence by calling 8339 3060 and press 1 to leave a message. In your message, please clearly state your child's name and Pastoral Care (PC) group.
If a student tests positive to Covid, please call the absentee line and also email covid@kolbecc.catholic.edu.au to advise of their positive status, the date of the positive test and when they were last on site.
Seat belts on buses
Wearing seatbelts in buses is important for safety and is now a legal requirement in Victoria. Seatbelts assist in keeping people secure in case of sudden movements or accidents. Please remind your children to use seatbelts when they are provided. For all excursions, teachers will ask students to wear their seat belt for the duration of the bus ride.
Operoo
It is important that your contact details in Operoo are up to date. This helps us reach you quickly in case of an emergency during school excursions. Please check and if required, update your contact information. Also, giving permission for excursions as soon as you receive a notification allows us to properly plan and organise these valuable learning experiences for your child. If you need assistance from one of our Multicultural Education Assistants, please call 8339 3101 to leave a message.
Nikole Cymbalak
Deputy Principal - Operations