Kolbe Staff on Film
Kolbe recently welcomed a videographer and his crew into Kolbe to interview many of our teachers and capture some footage of our beautiful campus and sensational students. Around 20 staff were interviewed - including many staff new to the College, graduate teachers, school leaders as well as experienced Kolbe staff - and answered questions like:
What makes Kolbe special?

What has surprised you about Kolbe?

What is your vision for Kolbe?

What is the best piece of advice you've been given by another staff member at Kolbe?
It was incredible to have the opportunity to hear our Kolbe teachers reflect on their experiences and share their passion for teaching, describe the incredible support they receive from colleagues, and speak about the students with such pride, affection, and enthusiasm.

We look forward to seeing the completed videos in the coming weeks and to share them with the community via our social media platforms. A huge thank you to all the staff involved in this fantastic production!
Welcome and Welcome Back!
This term we welcomed the following new staff to our Kolbe family:
Ms Lucinda Szechenyi - Teacher (English)

Ms Valentina Castaldo - Teacher (Italian)

Ms Caterina Bosco (Language Assistant)

Ms Daniela Mitrev (Laboratory Technician)

Mr Jack Phillips (Learning Support Officer)

Mr Julian Senaratne (Tutor)
We were also very excited to welcome back former Kolbe teacher, Ms Zoe Howe, who has returned this term teaching English and Humanities.

Recruitment Evening
On June 6, Kolbe is hosting an evening for teachers interested in employment opportunities at Kolbe in 2024 and beyond. The evening will offer a tour of the school, a Q&A panel with school staff about the programs and culture at Kolbe, an opportunity to meet some of our students, as well as some light refreshments.
The evening is open to both qualified teachers and university students currently completing an education degree. If you or someone you know is interested in future employment at Kolbe, see the flyer below for more information and details about how to register.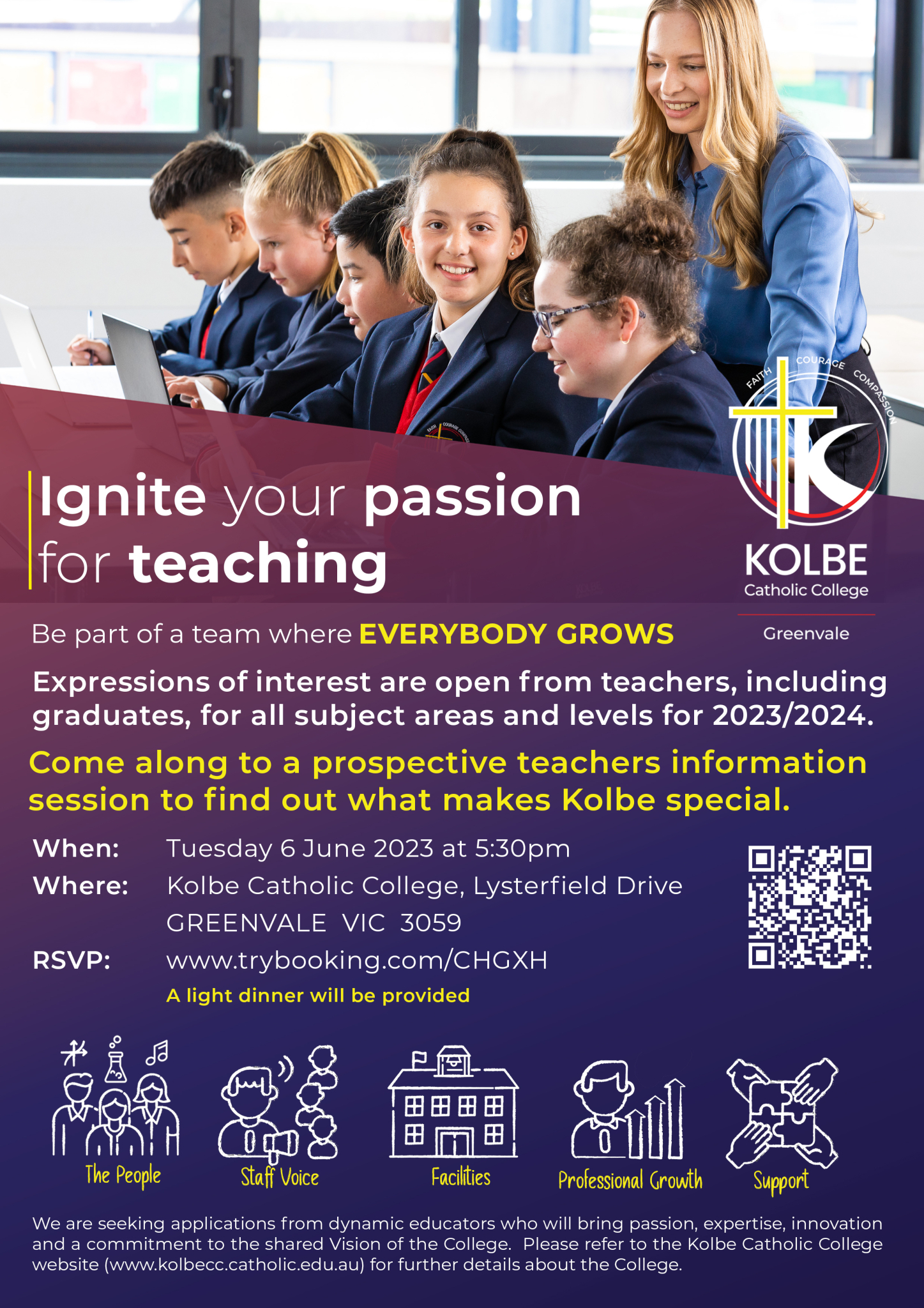 Tracey Kift
Deputy Principal