Dear Members of the Kolbe Catholic College Community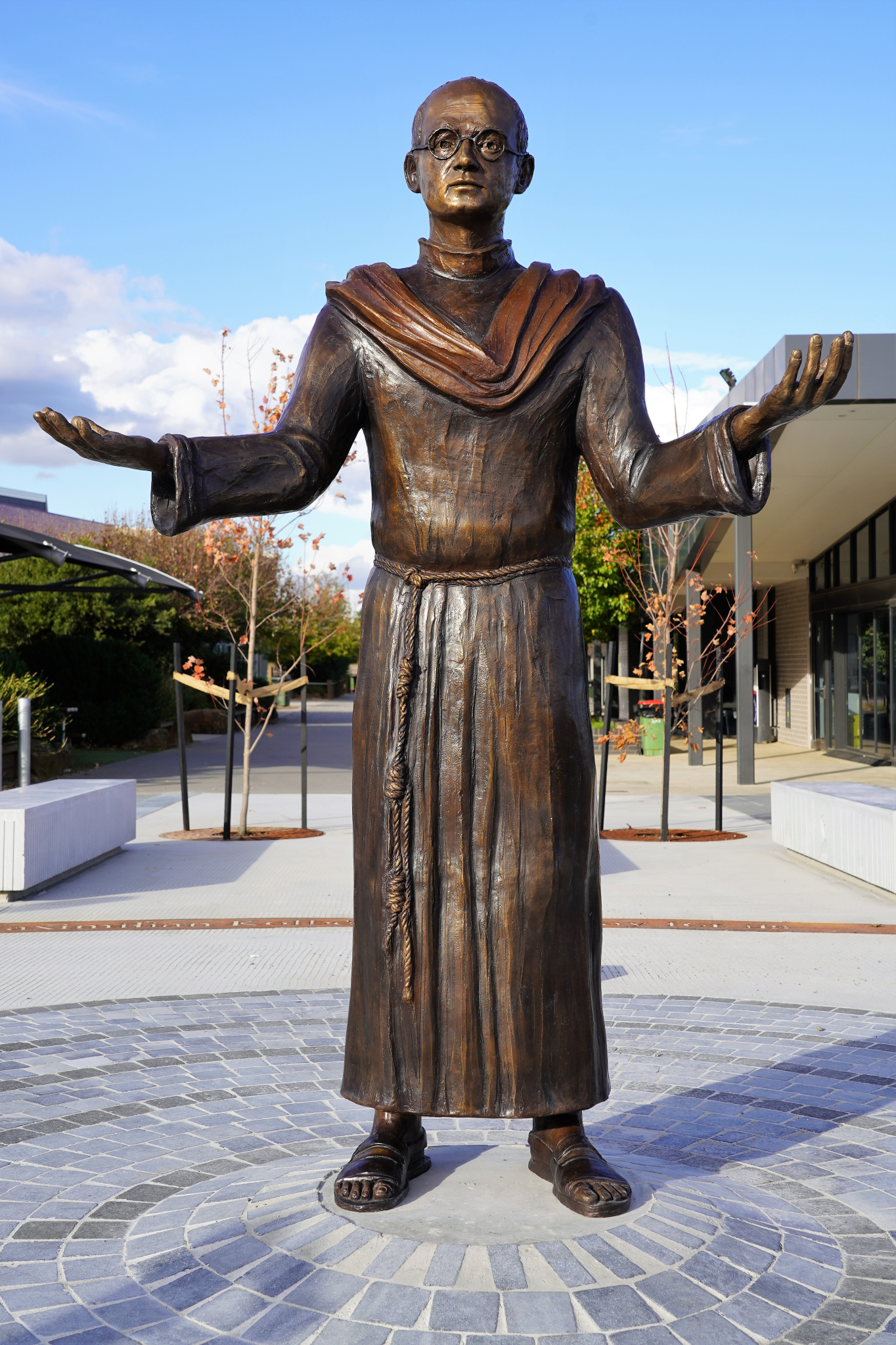 The installation of this statue is the first key step in the development of the College's Catholic iconography. The master plan for the Greenvale campus outlines a vision for three significant pieces of iconography, representing Jesus, Mary and St. Maximilian Kolbe. With St. Max installed at the centre of the school, the next steps of the master plan include placing a statue of Mary in the reflection garden at the rear of the Chapel, and installing a cross on 'Mt. Kolbe', the highest point on the college grounds, a visible sign of our Catholicity beyond the College walls.
The intentions and design of this new statue has been a long time in development. The Franciscan focus is evident in the representation of St. Maximilian. He is depicted wearing the traditional Franciscan robe, rope belt and sandals. Whilst he is most well known for his sacrifice at Auschwitz, it is his Franciscan Charism that we wanted to emphasise.
His placement at ground level, without a plinth or any form of elevation is designed to show he is relatable, approachable and importantly, welcoming. This same value is visualised through his outstretched arms, welcoming each of us but also inviting interaction. This was another key focus of the statue, staff and students should be able to interact with St. Maximilian in a prayerful and respectful manner. All the House Patrons of our school were chosen due to their modern and relatable nature and St. Maximilian is the epitome of this, having been canonised in 1982.
The countenance of St. Maximilian Kolbe was of considerable importance. His face was to show peace and warmth, his story is not a joyful one but his belief that 'only love creates' is depicted in his expression.
Finally, passages from the Gospels and Franciscan quotes are inscribed in the paving and on panels encircling the statue, emphasising the values of St. Maximilian and the values we hope you, our students, will embody.
We look forward to the official blessing of this statue on our Feast Day on 14 August.