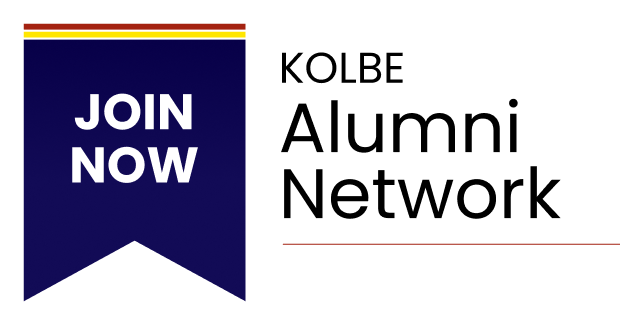 Join our Alumni Network
Celebrate the past, live the memories and embrace the future.
Our past students are valued members of the our College community.
Register your contact details - Stay in touch!
This site will hopefully become a place you will enjoy visiting to find out news about your peers and Alumni events supported by the College. Stay connected....
Our dedicated online platform for past students of Kolbe Catholic College helps our graduates build a network with other Alumni.
Join our thriving alumni network and be rewarded with fantastic benefits! Search and network with other like-minded alumni based on Graduation year, profession, location and more. As long as you have been a student at Kolbe, we welcome you to join and stay in touch with us and other alumni, whatever stage you are in your life.
Our site allows you to register using your social media account so you do not need to maintain a separate email or remember a separate login when logging in to our Alumni Network. Otherwise, you can register using your email should you wish to not use your Linked In, Facebook or Google account.
Get Social
Post updates what you have been up to and private message other members.
Upload Photos
Post photos and old memories for others to enjoy.
Post Jobs
Expand your recruitment reach.
Reunions/Events
Kolbe Catholic College will keep you informed on reunions/events that bring our Alumni Network together.
Contribute & Inspire our Students
Workplace Connections

Can you offer work experience to our students at your workplace?
Careers Speakers

Share your industry knowledge and experience by speaking with our students. Your experiences can provide inspiration and insights for our students to make informed career choices.
Mentor Program
Are you currently studying? Sharing your experience provides students with insights into 'how to' take the next step toward their chosen career.
Share Alumni News

At Kolbe Catholic College, once you are a student, you are always part of our Community. We would love to hear from you and hopefully share your achievements, career directions and highlights since graduating, with the Kolbe Catholic College Community.
Simply email registrar@kolbecc.catholic.edu.au with a paragraph or two about your news, attach a couple of great photos and we'll be in touch. Community news snippets such as achievements, career directions, engagements, weddings, births, reunions etc. are strongly welcomed. We look forward to hearing from you.

Reunions
Class of 2013 - 10 Year Reunion
SAVE THE DATE - Sunday 13 August 2023
Our first cohort of Year 12 students completed their schooling in 2013. This year we will be hosting a special 10 Year Reunion to celebrate the first graduating class at Kolbe.
This reunion is a very special reunion and an opportunity for the graduating class of 2013 to return to Kolbe, see all the changes, catch up with old friends and reminisce about their time at Kolbe.