Student Leadership
The Student Leadership application process for 2023 is underway this term, with Year 10 and 11 students recently submitting applications for a variety of leadership roles in the College. Students vying for College Captain and Vice-Captain positions, following their interviews with the Principal this week, will be presenting speeches to the student body on August 17.
I would take this opportunity to congratulate all students who have applied for Leadership positions and to wish all applicants the best for the selection process this term.

Frassati House Feast Day
Congratulations to the students of Frassati House for a wonderful Frassati House Mass and Celebration on July 20th. Thank you to Director of Faith and Mission, Caith Malone and House Leader, Sarah Relf for the organisation of this celebration.
Extended Absences
As a College, we strongly believe that regular school attendance is key to students academic, social and spiritual development. We strongly advocate for families to minimize student absences from school (excepting medical and/or bereavement reasons) and do not endorse the decision to remove students from classes for non-essential reasons.
However, we also recognise that after two years of closed borders, a number of our families may have plans to travel overseas and interstate to reunite with family and friends, and may need to have their children miss periods of schooling to accommodate these plans.
In instances where a student will be absent from school for a period for non-medical reasons, families are asked to download a copy of the Notice of Extended Leave form from the College website at: https://www.kolbecc.catholic.edu.au/contact. Once the form is completed, it can be handed in to Student Services or emailed to office@kolbecc.catholic.edu.au.
Students in Years 7-10 can remain up-to-date with their studies by accessing their learning materials on SEQTA during their absence. Students enrolled in a Senior Certificate - VCE or VCAL - are asked to contact the Curriculum Leader (Senior Years), Mr Anthony Schepis ahead of their planned absence to discuss the impact of their absence on their VCE or VCAL studies.
Social-Emotional Learning (SEL)
With one full semester of our SEL program completed, we recently reviewed the progress of the program and provided teachers with an enhanced framework for implementing SEL. This new framework offers a balance between a formal Social-Emotional Learning Program (3 sessions per week) and individualised SEL in Action sessions (2 per week) in which Pastoral Care Teachers work on building relationships and working with individual students on their own SEL goal setting and progress.
As previously outlined, the SEL program is based on developing Respectful Relationships and on supporting students to build the five social-emotional competencies: Self-Awareness, Self-Management, Social-Awareness, Relationship Skills, and Responsible Decision-Making. The College has developed a series of self-reflection tools for students, having previously shared the Self-Awareness tool, below is the Self-Management reflection tool. We encourage families to discuss these tools with your sons and daughters – reflecting on their strengths and goals, or even sharing your own, to encourage them to see that social-emotional learning is a lifelong endeavour.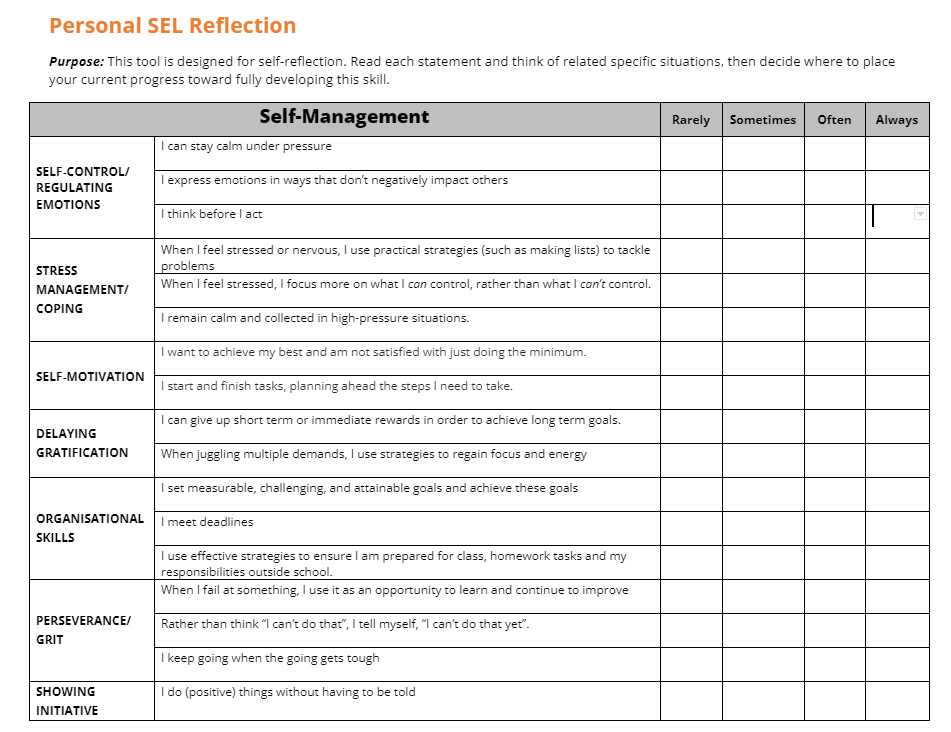 Tracey Kift
Deputy Principal