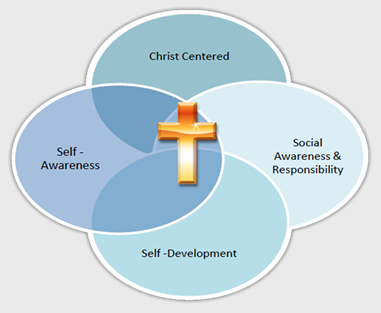 Kolbe Catholic college has always integrated Faith and Life together. This means that how we live is guided by the gospel values imparted by Jesus. As you are aware the college is planning on leading the students through the Respectful Relationships program in the coming years. Social Emotional Learning is paramount for all people. It helps us understand ourselves, each other, the world and ultimately the transcendent God in deeper and more fulfilling ways.
You may already know how important SEL is for academic learning, but did you know that it is directly linked to living a life that is envisioned by God for all of us?
Below I have included some sections from the,
"Wellbeing for learning in Catholic school communities guide" first published in May 2018.
Our commitment to wellbeing: Inspired and sustained by the gospel
'It is in relationship with God and others in the school community that young people are enabled to discover who they are, where they come from and what their destiny can be'.
Catholic Education Melbourne 2017, Horizons of Hope: Wellbeing in a Catholic School, p. 4
Wellbeing for learning in Catholic school communities is inspired and sustained by the gospel and the person of Jesus Christ. Jesus' life and teachings show all people 'the way, the truth and the life' (John 14: 6), providing the roadmap for fostering positive life attitudes, aspirations, and service. Through the gospel, Jesus illuminates for us how we are called to live out our mission, approach our work and conduct our relationships with love, hope, dignity, compassion, and forgiveness.
In Catholic schools the Good News of Jesus Christ is carried in people's hearts, embedded in narratives, nurtured in relationships, demonstrated through actions, and encountered in the teaching and learning cycle. Foundational in promoting authentic partnerships, communal obligations and a commitment to social justice, the gospel affirms that, in God's love, every person is sacred.
Valuing the unique giftedness and temperament of each person in all their richness and complexity, social emotional learning has the child as its central focus. It is informed by a holistic understanding of wellbeing that promotes the development of children and young people in relation to self, others, their faith, and the environment.
SEL acknowledges that wellbeing is enabled in purposeful, life-giving learning environments that are distinctively Catholic in context and tradition. Every dimension of being within a Catholic school community is focused on creating a vision in which all may have life in abundance (John 10: 10).
Cultivated in communion with God and in relationship with others, wellbeing is nourished through the actions, interactions, and attitudes of all community members. In Catholic schools, human flourishing is supported by appreciating and celebrating the innate dignity and immeasurable worth of each person, who is made in the image and likeness of God (Genesis 1: 27).
Recognising that 'each human life is of unique value, loved by God, with his or her own gifts." Social Emotional Learning is integrated with life and the world in which children and young people live. Through authentic partnerships where school leaders, staff, students, families, parishes, and communities collaborate as active, connected, and empowered agents, wellbeing is nurtured, social capital is generated, and common purpose is built.
I look forward to exploring the links between SEL and Faith Education with you next year!
Take care and God bless,
Caith Malone
Director of Faith and Community